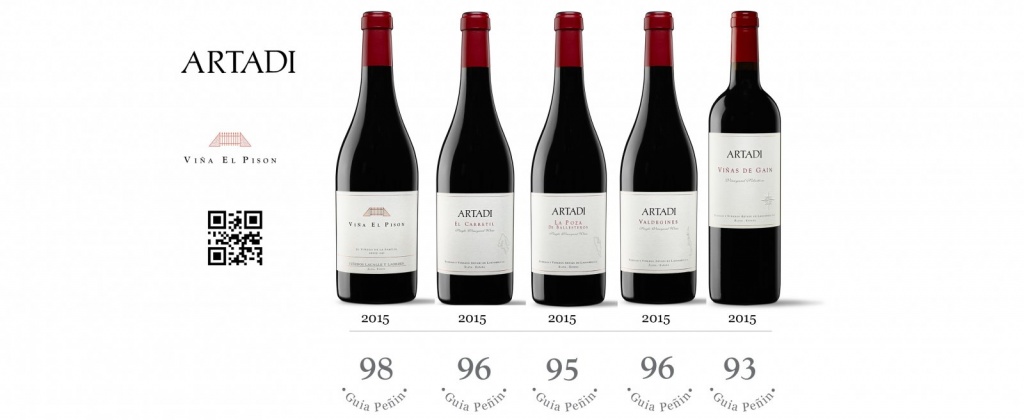 Peñin Guide 2018 Rating ARTADI, ARTAZU and El Sequé
Our Single Vineyard Wines, ARTADI  El Carretil, ARTADI La Poza de Ballesteros and ARTADI Valdeginés have reached the podium in this  new edition 2018 with 95 and 96 points. 
Our Family Vineyard, Viña El Pisón, has been chosen as one of the best wines getting the outstanding rating of 98 points. Viña El Pisón is a magic vineyard that offers us this iconic wine full of emotion and energy.
National and International press recognize our efforts to get the best expression of our Terroir.  Our passion and dedication is being rewarded year after year and therefore we will continue focused on the importance of the vineyard. Passionate as we are for all the natural richness of our region we are releasing new Single Vineyard Wines that discover us the great potential of our land, keeping safe and alive the micro-biodiversity of the vineyards and the wine.  
On the other hand, we would also like to share with you the ratings of our other two states in Alicante and Navarra. El Sequé 2015 and Santa Cruz de Artazu 2015, our Village Wines  also have obtained a high score as the expression of the native varieties where we focus our attention, Monastrell in Alicante and Garnacha in Navarra.
Santa Cruz de Artazu 2015 – 92 Points
El Sequé – 94 Points
RELATED ARTICLES 
James Suckling chooses 7 of Artadi's wines among the Best Spanish Wines
From 2016 vintage all ARTADI wines will include the logo of the Certification for Organic Wine