Latest ratings of Bodegas ARTADI at The Wine Advocate
Luis Gutierrez, the wine- taster for the renowned wine magazine The Wine Advocate-Robert Parker, has published the latest report about the Rioja wines including the rating of our wines.  Viña El Pisón 2015 is placed at the top of the list with 98+ points and the rest of our wines are all above 92 points.
In his recent visit to our winery we had the opportunity to show him our vineyards, where we truly focus our efforts. We visited some of our most unique and exceptional plots as La Laguna, Quintanilla or Santa Cecilia, which will soon be bottled separately in order to increase our Single Vineyard Wines range. 
Single Vineyard Wines (The Wine Advocate Tasting notes):
VIÑA EL PISON 2015 - 98+ Points 2015 is a year that combines power with elegance in a balanced way, with the freshness of slow ripening at the end of the growing cycle.(...)"
ARTADI El Carretil 2015 – 96 Points "It's super expressive and open, with a captivating nose, pretty much enclosing the Artadi style, clean, floral, serious, with good ripeness but without excess and with generous oak but a lot less than in the past. (...)"  
ARTADI La Poza de Ballesteros 2015 – 92 Points The slightly cooler growing season benefited the 2015 La Poza de Ballesteros, which comes from a more generous vineyard with deeper soils that tend to produce more generous wines from riper fruit(...)"
ARTADI Valdeginés 2015 – 93 Points - "The 2015 Valdeginés fermented with indigenous yeasts in open-top vats like before, but the time in barrel was shortened to nine months (from 12). The year was dry and this is a little warmer. The fruit feels quite forward and black rather than red, without the tannic structure of the 2014s. They are very different vintages. There is some more lightness on the finish here, and I had difficulties deciding which one I preferred. The truth is that 2014, 2015 and 2016 are very good vintages for Artadi."
Following the Parcela Wines, we blend in our Village Wine-ARTADI Viñas de Gain the terroir of our area. According to Luis Gutiérrez, "The 2015 Viñas de Gain could be the best bottling of this pure Tempranillo that comes from 20 to 30 different vineyards in the villages of Laguardia and Elvillar" Made from the Viura variety, it  has also been rated 92 points its white version: ARTADI Viñas de Gain Blanco 2013.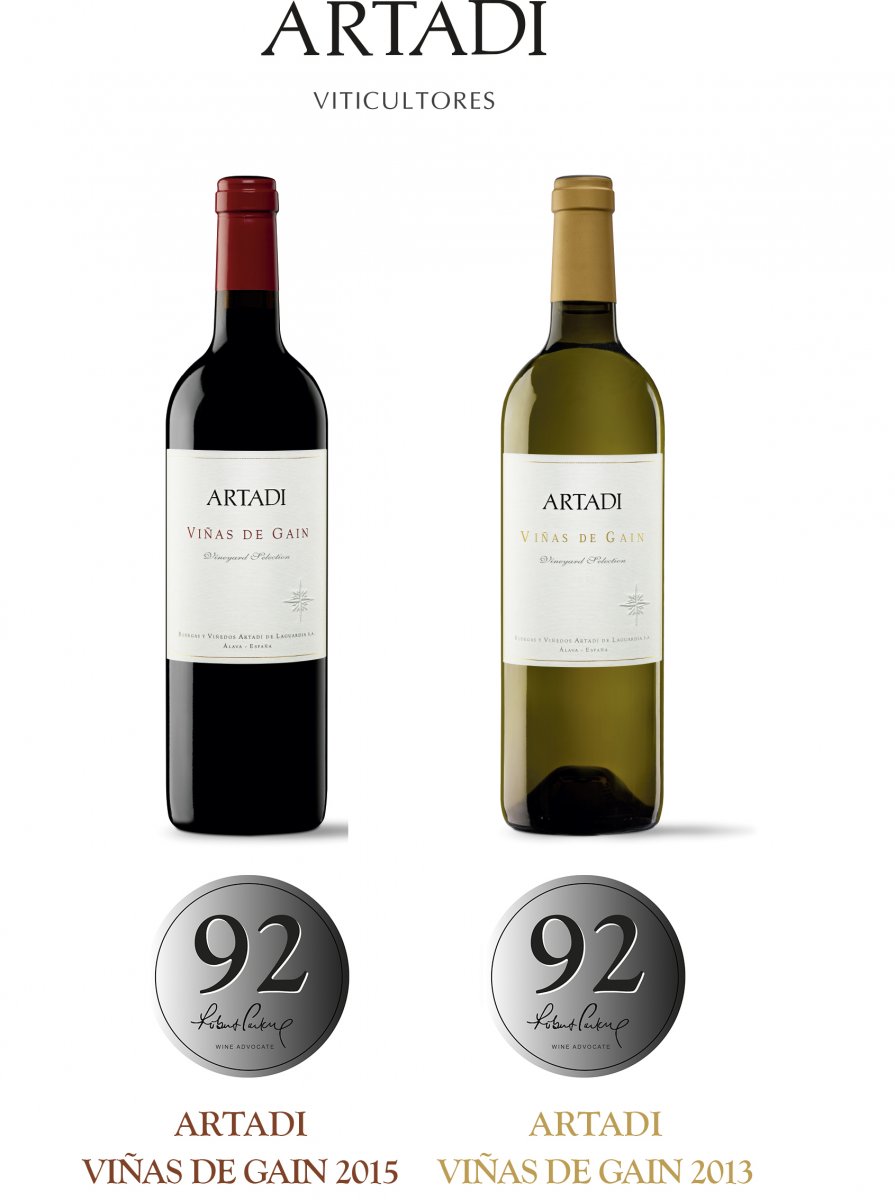 Vinos de Pueblo
ARTADI Viñas de Gain Red 2015 – 92 Points
ARTADI Viñas de Gain White 2013 – 92 Points
ARTADI´s history is full of national and international awards and has achieved a renowned reputation since it was founded in 1985. Its trajectory has always been linked to the quality and the traditions of their ancestors, passion and respect for the vineyard.
LATEST NEWS
Viña El Pisón best red wine of Spain