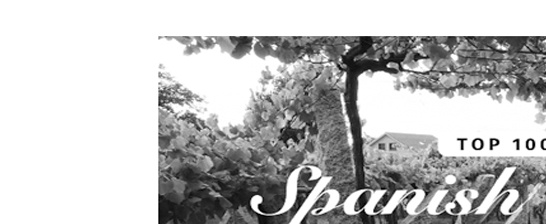 James Suckling chooses 7 of Artadi's wines among the Best Spanish Wines
Renowned wine critic James Suckling has tasted over 800 references in our country. In his conclusions, and after an exhaustive classification he has selected all the wines he has tasted from our winery for this article, up to a total of 7 references with the distinction of being among the 100 best Spanish wines of the year.
All the hard work, dedication and respect for nature are rewarded year by year for the recognition in the wine world by the most international and prestigious wine journalists and critics. These awards and acknowledgements enhance our  philosophy about making unique wines, linked to the land and people of our region. "Terroir wines", an idea that has a meaningful implication for us. It clearly defines the nature of our wines, with its own personality and character.  
In "The best Spanish wines of 2016" the critic has included ARTADI wines in Alava, ARTAZU in Navarra and EL SEQUÉ in Alicante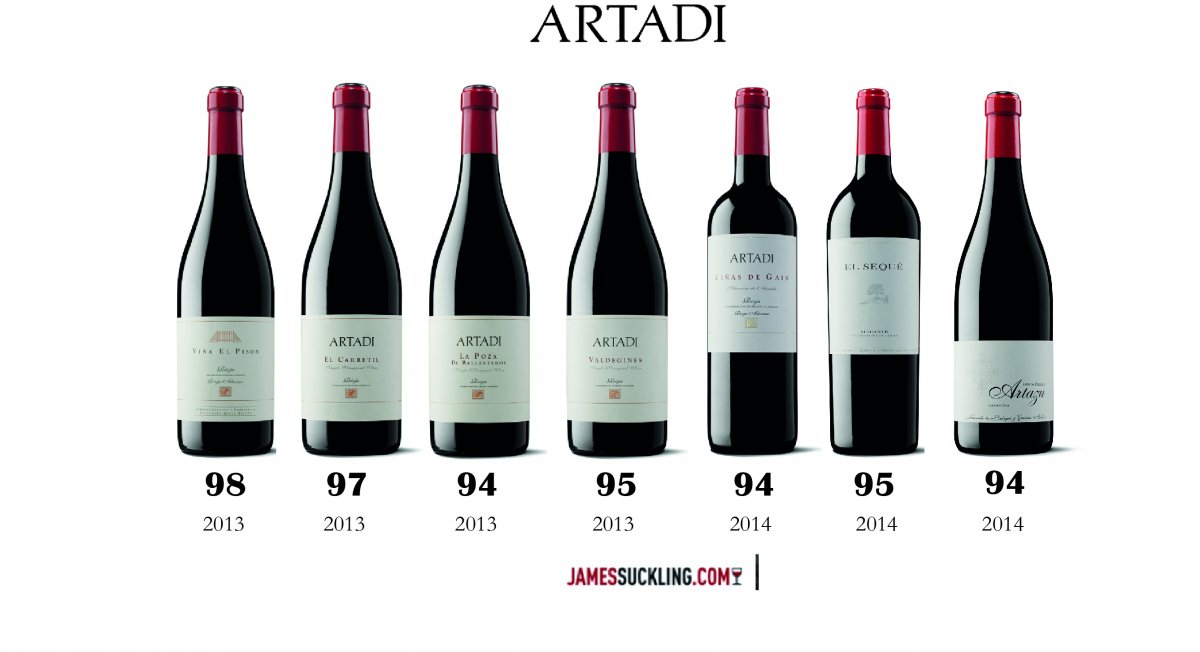 VIÑA EL PISÓN 2013 - 98 Points……. Amazing depth and complexity to this red.
ARTADI EL Carretil 2013 - 97 Points…. What a wine!
ARTADI La Poza de Ballesteros 2013 - 94 Points
ARTADI Viñas de Gain 2014 - 94 Points
ARTADI Valdeginés 2013 - 95 Points
El Sequé  2014 - 95 Points
Santa Cruz de Artazu 2014 - 94 Points
Rounding out the top five is a Rioja legend: The 2013 Artadi El Pisón continues to live up to its reputation. The founding top vineyard of the Artadi portfolio continues to deliver intriguing, structured tempranillos with mind-blowing purity.
All of the wines in our top five share one characteristic: They're made from old vineyards planted in exceptional sites with autochthonous varieties. This actually is a common pattern throughout the list, and we believe it shows the pedigree of Spanish vineyards as well as the country's viticultural tradition. Many of these exceptional vineyards and varieties are just coming back into style, the winemaking just now getting fine tuned.
 Nº 5.  VIÑA EL PISÓN 2013 – 98 Points
Amazing depth and complexity to this red showing dark berries, strawberries, and raspberries with hints of earth and seaweed on the nose. Full body with ultra-compact and fined-grained tannins that follow through to a pure, very long and intense wet earthy and mineral finish. Very classy and structured. Needs at least four or five years to soften. Try in 2020.
Nº 16.   ARTADI EL CARRETIL 2013 – 97 Points
A pure, deep and complex red showing ripe dark fruit, violets, cocoa and earth character. Seaweed, too. Full-bodied with concentrated and perfectly silky tannins leading to a clean, ripe and beautifully earthy and mineral finish. An amazing wine with a great structure. Single-vineyard bottling. Give this three to four more years. What a wine!
Nº 57.   ARTADI VALDEGINES 2013 – 95 Points
Deep, dark and beautiful nose of ripe blackberries and black cherries as well as earthy and light, toasted-oak undertones. Floral. Full-bodied and structured with chewy, polished tannins and a long, earthy and mineral finish. A very classy red with aging potential. Better in 2019.
Nº 64.  EL SEQUÉ  2014 - 95 Points
ALICANTE
A dark and intense red with wet-earth and blackberry character. Very pure. Full body, polished tannins and a long, flavorful and earthy finish. Shows wonderful depth. From 100% monastrell grape. Better in 2018.
Nº 76. SANTA CRUZ DE ARTAZU - 94 Points
NAVARRA
A young and fresh wine showing pure blueberries, blackcurrants and cherries with mineral and herbal undertones. Full body, polished and concentrated tannins and a long, fresh and spicy finish. Great fruit and potential. From 100% garnacha grape. Better in 2018 when the tannins soften.
Nº 88.  ARTADI LA POZA DE BALLESTEROS 2013 - 94 Points
Exuberant aromas with blackberries, cacao and hints of graphite. Dried flowers as well. Polished, superfine tannins and a clean and concentrated finish. Single vineyard. This is racy and refined. A lot of wood tannin underneath, but this will come out beautifully with time. Better in 2018.
Nº 97.  ARTADI VIÑAS DE GAIN 2014 - 94 Points
Deep, complex and layered nose of blackberries, blackcurrants and plums plus herbal and mineral hints. Even some tart. Full-bodied and concentrated with fine-grained and silky tannins that follow through to a long, earthy and dark-chocolate finish. From a vineyard selection. Still a bit closed. Better in 2018.
ARTADI´s history is full of national and international awards and has achieved a renowned reputation since it was founded in 1985. Its trajectory has always been linked to the quality and the traditions of their ancestors, passion and respect for the vineyard.
RELATED NEWS
Viña El Pison gets 97 points in the last report from The Wine Advocate – Robert Parker
Tim Atkin praises ARTADI and chooses Viña el Pisón 2014 as Best Wine of the year