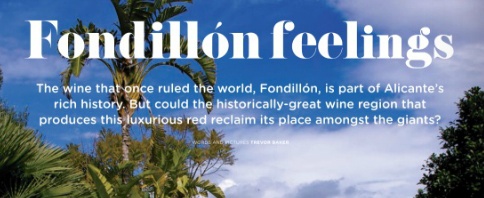 Alicante's rich history and El Sequé
The writer Trevor Baker tells us about Alicante's wines in the Flybe's Flight Time magazine this month. Since the beginning of 20th century with the Fondillon until today he summarises the history and the main facts in the winemaking process.
Trevor travelled to Alicante last December and he wanted to visit us in Pinoso and get to know more about our philosophy.
After Phylloxera reached Spain at the end of the 19th century, there were hardly any producers making Fondillón. Then, in the middle of the 20th century, a few pioneers decided to bring it back to life, buying up ancient barrels of the stuff and using them as the basis for an entirely-new batch.
Wind forward to today and there are 11 vineyards making it again and Fondillón is, very slowly, creeping back to its place on the world's top tables. Our first winery, through, is  a symbol, not of Alicante's past, but its highly-promising future.
El Sequé, just outside the town of Pinoso, makes what is considered locally to be one of the best modern Alicante wines.(…) When Artadi rescued these old vineyards in 1999 they had just 40 hectares, now there are almost 200. Yet for all their love of the old methods, they still have modernity that would have shocked their predecessors. They pick the grapes with great care, abandoning much of the crop if it is not suitable.
We try their El Sequé 2010, which, with its sophistication and strength, shows just how powerful the combination of old and modern can be.
You can read the full article in this link.
RELATED ARTICLES 
El Sequé 2013 best wine from the DO Alicante according to Peñin Guide
The Wine Advocate - Robert Parker, publica las puntuaciones de los vinos del Levante Español